To:

Rev.com (CEO Jason Chicola)
Support from Customers for Fair Wages for Rev.com Workers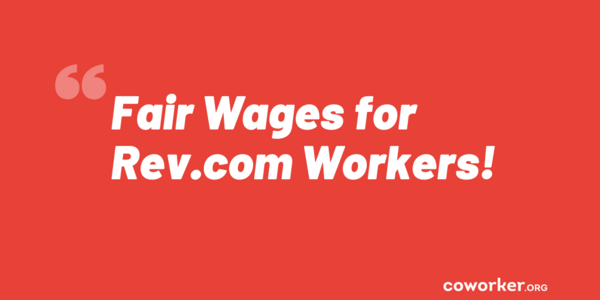 We are Rev customers who utilize Rev.com's transcription, captioning, and translation services.
Recently, we have become aware that the base pay of Rev transcriptionists was cut from $0.45 to $0.30 per minute (Rev generally charges $1/min), a 33% decrease in base pay for workers.
We demand that this pay cut be reversed, and any future changes in pay be made by consulting workers in an open forum in advance of any proposed changed being implemented.
Why is this important?
We respect the rights and autonomy of freelancers and gig workers to be paid a fair and living wage. Transcriptionists are the heart and soul of Rev.com and decreasing pay abruptly and without announcement or community input puts undue strain on workers, who deserve to be treated as vital participants in any company success.