To:

Metro Atlanta Rapid Transportation Authority (MARTA)
MARTA: Remove any/all management who puts employees at risk for COVID-19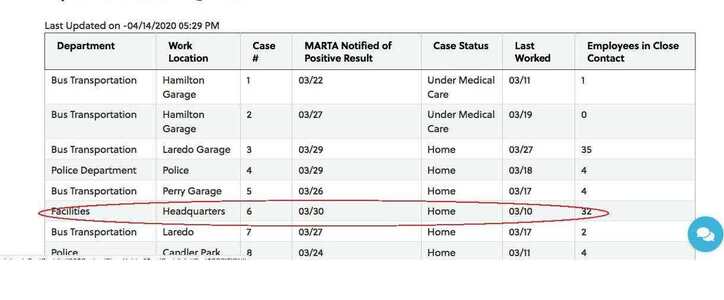 MARTA's CEO and senior management need to do more than a virtual town hall as a form of check/balances that their lower managers are taking the appropriate steps to prevent the spread of COVID-19 and protect employees from exposure to COVID-19.
Why is this important?
Yesterday, April 13, 2020, I came in on my first day as a new hire in MARTA's Customer Care Center. Before my first day, I asked the Senior Recruiting Officer in human resources what practices MARTA had in place for COVID-19. She told me that I could wear a mask, but she wasn't sure what the Customer Care Center's practices were.
However, that is not what I saw when I showed up for duty. I got mean and nasty stares from several MARTA employees - even the front desk security guard. Worst, the Customer Care Center management - on top of stating they were not ready on how to go about training me during COVID-19, I had to endure rude and snide remarks where I was told I need to speak up and that this is a call center and I need to speak up. Mind you, I had to endure such insults and snide remarks despite the fact that I bring over seven years of experience in call center and customer service.
Therefore, no frank and practical discussion was made to me about how my training would be conducted and whether or not I could wear the mask. The day culminated with the Customer Care Center director, Ms. De Jesus, accusing me of being "insubordinate" after I tried to speak louder to her and the other managers - because they repeatedly told me they could not hear me.
I saw at the Customer Care Center that no one was wearing masks - including management. Their solution to comply with CDC guidelines was to rotate sending home some employees to work, and bringing them back into the office. However, my previous employer did not take such risks with our call center - they sent all employees to work virtually and did not place a requirement on us to return to the office.
In sum, MARTA's management shamelessly had no issue with making false allegations of me being "insubordinate", so that they could wipe their hands free of being inconvenienced in having to allow me to wear a mask to work and/or make reasonable accommodations to protect its employees. Unfortunately, this is becoming a trend in many workplaces - where employers are not protecting their employees, and resorting to manufacturing incidents where they can remove someone under a subjective allegation of being "insubordinate"; and, with this pandemic - such illegal and immoral practices should be condemned.