To:

SF Bay Area Bars, Clubs, and Other Employers of Drag Entertainment
Werk is Work! SF Bay Drag Employers: Pay a Minimum Booking Fee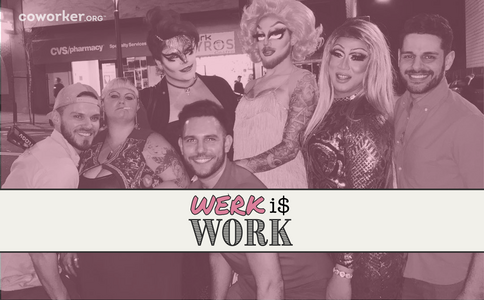 Pay each Drag Performer and staff to ensure they receive at least $40 per show.
Why is this important?
Drag performers attract paying customers, and keep the San Francisco Bay Area weird and amazing. Often our community incurs high costs with little return for our labor. We're amazing people to work with and we support a slew of other paid roles in our event production. If this isn't enough to convince you, keep reading.
------------------------------------------------------------------------------------------------
We want that San Francisco Bay Area bars, clubs, and other employers of drag entertainment ensure that each drag performer and staff receive AT LEAST $40 per show:
$40 = 2 numbers max, no more than 2 hours at the venue.
*Tips only agreements: the employer must close the gap if $40 minimum is not made in tips.
**Open spots (i.e. Club Poppers): technically, no one is "booked." Participation is at the promoters' and performers' discretion.
-----------------------------------------------------------------------------------------------
My name is Alexis Atauri and I am a drag queen in San Francisco. For the past 3 years, I have cried, laughed, lived, and loved with a community of performers, DJ's, lighting designers, wig makers, and other talented artists in the Bay Area. A true labor of love, I've seen my community sacrifice so much to continue to push the boundaries of gender expression, art, and weirdness while still advocating and creating space for everyone. It's never going to be easy, and we wouldn't want it to be. However, despite the ongoing conversation about dignified pay in our community, we are not organizing action around this conversation. Some venues pay well; some don't. Regardless of our skill and experience, don't we all deserve to expect a minimum booking fee if we are asked to share our drag? I believe we do and I want to fight for better pay for us all.
We want a fair return on our Labor. This is no different from dancers, makeup artists, hair stylists, and other artists. We want employers to take us just as seriously when requesting our services so that we can establish and sustain good working relationships, and quality performances for customers to keep coming back. Knowing that the venues where we work support fair treatment and dignified paid for all workers, including us, can only improve our art.
It can't hurt. A minimum of $40/performer is more than a reasonable cost for anyone booking drag in the Bay Area. It doesn't make performers who get paid more suddenly receive less compensation. It doesn't force newer queens to hustle or have a traumatic experience starting out in drag. It will discourage performers from price gouging each other. Ultimately, it will allow our community to continue to exist and thrive in a financially tumultuous city.
Awareness is an important part of this conversation. Audience members, employers, and corporations (i.e. people who don't do drag) don't know firsthand what it takes to produce a look, a performance, or even just a face. Encouraging transparency about the cost and compensation of drag may encourage audience members and employers to better value our productions with tips, increased budgets, or even perks like free drinks, VIP access, or free guest entry. Bay Area drag is diverse, so I expect the opinions surrounding this conversation to also be dissonant, but constructive. The important part - or "Why?" - is that we have this conversation and take action.
The cost of sustaining drag is no joke. Most of the time a night's pay (including tips) doesn't cover the cost of the makeup, costume, and transportation to support the event. I admire Bay Area Drag performers' ability to be creative about reusing content, sourcing cheap materials, and working side gigs while still delivering top-notch performances. A minimum booking fee will only help us continue to thrive in performances and other hustles. The more money invested into us, the more fabulosity we can put out, and the more customers we can attract for bars/clubs.
Making sure this conversation is inclusive of other roles and performers in our drag scene is important, too. We wouldn't shine as bright without our DJ's, handlers, door staff, and stage managers, for example. Fighting for pay for all can only increase the quality of the entertainment we produce, increasing the patronage to the bar/club as well. It also stands to mention I feel that pole dancers, voguers, burlesque, puppet masters, and anyone who is on stage with us deserve fair compensation and the audience's attention; they are included in this conversation about drag compensation. I believe anyone who is asked to spend their time and talent to be a part of a drag production should be included in the budget, and employers should also value them alongside drag performers. Everyone's work deserves to be dignified and should be compensated fairly.
What is the importance of drag in the community, anyway? Hopefully, you scoffed at this rhetorical question. The first largely recognized social rights movement for LGBTQIA was started by a black, transgender drag queen in New York City. We provide spaces for those in the community that are often cast aside, celebrating their queerness and providing the means for them to thrive in the bay. Look no further than the Sisters of Perpetual Indulgence to see that donning a look and exaggerating your personality is an effective way to serve our community where they are most in need. We keep San Francisco Bay Area weird. We support other artists. We give you something sparkly to look at when you're out. We sustain safe spaces. Drag has always been there for our community, and we are the best version of ourselves when the community is there for us, too.
I hope you can stand beside us and support our efforts!
XOXO
Alexis Atauri