To:

Tech Workers
No Work for Amazon New York

NYC-DSA Tech Action
We won! Thanks to on-the-ground organizing, Amazon has announced they are backing out of their plan to build an "HQ2" in New York City! We showed the world that big business and billionaires can't buy our city. New York belongs to the many, not the few.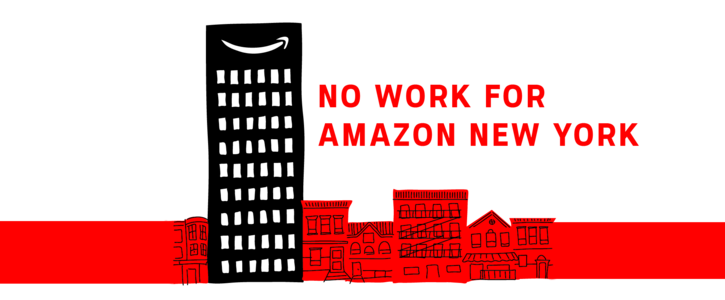 We are asking tech workers to pledge not to work for Amazon if they open their new "HQ2" in Queens.
As tech workers—key members of Amazon LIC's prospective workforce—we stand together to say we do not want Amazon in Long Island City, and we will not work for them there. Amazon's presence in Queens will negatively impact New York's current residents, public resources, and infrastructure. We will not sit idly by while Amazon sidesteps democratic processes and destroys New York's quality of life! We say "No Work for Amazon New York!"
Why is this important?
On November 12, Amazon announced its intention to create a new headquarters in Long Island City, Queens. Amazon's decision to expand its offices in New York was the result of a private deal made between three powerful men—Amazon CEO Jeff Bezos, New York Governor Andrew Cuomo, and New York City Mayor Bill de Blasio—a deal that will include roughly $3 billion in public subsidies to bring Amazon's HQ2 to New York City.[1]
Meanwhile New York's subway system, schools, and other public services are already overburdened to the point of collapse. If Amazon comes to Long Island City, we can only expect things to get worse. It has been projected that their effect on the housing market will push 800 more New Yorkers into homelessness.[2] And with Amazon maintaining its role as a key contractor for ICE [3]—despite widespread employee protests—Amazon's presence in Queens is a slap in the face to its largely immigrant community. To protect their homes, to protect their families, and to protect their livelihoods, that community has already been speaking out and loudly saying "No Amazon NYC." As tech workers living in New York, this is our community as well, and we stand in solidarity against Amazon. As tech workers outside of New York, we recognize Amazon's destructive power and want no part of it.
Amazon, one of the world's three most valuable companies,[4] doesn't need handouts from New Yorkers to come to Queens. If this was only about the money they were being given, they would have accepted one of the larger offers from other cities in their race-to-the-bottom HQ2 bidding war.[5] What Amazon really needs is New York's infrastructure, its proximity to finance, and access to its burgeoning tech sector. But most importantly Amazon needs us: highly skilled and trained tech workers.
But we don't want these jobs and we don't want Amazon. We know how Amazon treats its workers from the corporate office, to the warehouse line, to the last mile—it is abusive, indifferent, and exploitative from top to bottom.[6][7][8] We know Amazon will subcontract a large portion of its workforce, providing a fraction of the pay and none of the benefits enjoyed by the projected 25,000 new white-collar hires.[9] We also saw Amazon create a housing crisis in Seattle and then wield their political power to shut down a publicly-supported tax attempting to ameliorate the situation.[10] We know that Amazon doesn't pay its fair share in taxes.[11] And we are disgusted by Amazon's support for ICE raids at home and military engagement abroad.[12][13]
We are tech workers, and by signing this pledge, we say "No Work for Amazon New York." If this deal is upheld, if Amazon expands in LIC against the wishes of New Yorkers, sweeping aside vulnerable communities and burdening its infrastructure—all while pocketing huge amounts of public funding that could be better spent—we promise to withhold our time and our skills in protest. We withhold our labor from Amazon LIC in solidarity with the working people of New York City: women and men; black, brown, and white; documented and undocumented; young and old; native New Yorkers and all the rest who've come to call New York their home.
#NoAmazonNYC #NoWorkForAmazonNYC
---
1. https://www.washingtonpost.com/business/incentives-to-amazon-could-top-28-billion-in-nyc/2018/11/14/86ecfc8a-e85a-11e8-8449-1ff263609a31_story.html
2. https://www.marketwatch.com/story/amazon-hq2-could-push-800-people-into-homelessness-economist-says-2018-11-16
3. https://www.theverge.com/2018/11/8/18077292/amazon-rekognition-jeff-bezos-andrew-jassy-facial-recognition-ice-rights-violations
4. http://time.com/money/5386380/amazon-1-trillion-jeff-bezos-net-worth/
5. https://www.buzzfeednews.com/article/leticiamiranda/amazon-hq2-finalist-cities-incentives-airport-lounge
6. https://www.nytimes.com/2015/08/16/technology/inside-amazon-wrestling-big-ideas-in-a-bruising-workplace.html
7. https://highline.huffingtonpost.com/articles/en/life-and-death-amazon-temp/
8. https://gizmodo.com/amazons-last-mile-1820451224
9. http://www.thestand.org/2017/04/security-officers-for-amazon-demand-fair-path-to-form-union/
10. https://www.thenation.com/article/lessons-death-seattles-amazon-tax/
11. https://www.foxbusiness.com/markets/amazon-earned-5-6b-in-2017-but-paid-no-federal-taxes
12. https://www.theverge.com/2018/11/8/18077292/amazon-rekognition-jeff-bezos-andrew-jassy-facial-recognition-ice-rights-violations
13. https://www.yahoo.com/news/amazon-turn-lockheed-martin-companys-move-crystal-city-says-future-192816946.html
How it will be delivered
We will anonymously collect signatures and then first names and last initials will be publicly visible once we surpass 100. Last names will never be made public. The organizers of this pledge may contact you in the future via email.