To:

Planned Parenthood
Planned Parenthood Employees Need Paid Parental and Medical Leave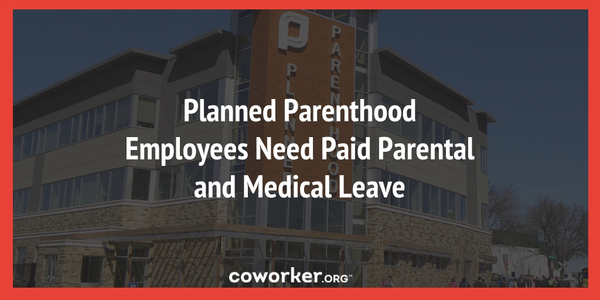 Many people would be surprised to learn that Planned Parenthood, the country's largest reproductive health care provider, does not offer paid parental and medical leave to many of its employees. As a former employee of a Planned Parenthood state affiliate, I personally dealt with the negative impacts of the lack of paid leave when I needed emergency surgery. I eventually made the difficult decision to leave the organization because of my experience.
While employees in Planned Parenthood's national office receive access to paid leave, many of the organization's state affiliates -- who employ the vast majority of its workers -- have no access to paid parental and medical leave. I'm calling on Planned Parenthood to ensure that all employees of the national and affiliate organizations receive the same quality paid leave benefits.
Why is this important?
I was involved with Planned Parenthood in different capacities for about ten years and was a few months into working at a Planned Parenthood state affiliate when I found out that I was in need of emergency surgery. I soon learned that I had no paid medical leave and would have to rely on a combination of short term disability and unpaid leave to recover from surgery. Unpaid leave was not an option for me as I simply did not earn enough from the job to accumulate any savings. (I worked a second job just to make ends meet.) The process just to get approval to work from home for a few weeks while recovering (instead of taking time off) was incredibly onerous -- and I was lucky to even make that work as working from home isn't an option for so many of my coworkers working in Planned Parenthood clinics.
Overall, the experience of taking time off for a critical surgery was extremely challenging and it's not just the lack of paid medical leave that was a problem for me and many Planned Parenthood employees. I'm also concerned for my former coworkers who are new parents. I learned that they do not receive any paid parental leave.
Ultimately, because of what I went through, I decided I needed to leave the organization and look for other opportunities. It's just unfair and it's hypocritical for Planned Parenthood to deny their hard-working employees paid leave -- even as more and more employers are expanding similar benefits. I know that other state affiliates also lack paid family and medical leave and it is a major source of frustration for my former coworkers.