To:

WeWork CEO Sandeep Mathrani
WeWork: Close During the Coronavirus Pandemic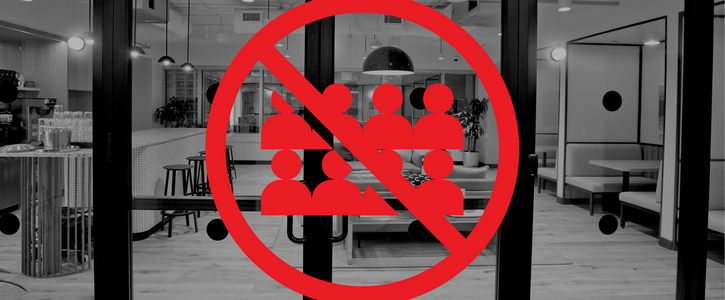 WeWork: close all your offices immediately, for at least two weeks, and do not reopen until public health experts are confident that social distancing is no longer a necessary measure to limit the exponential spread of the novel coronavirus.
Pay all your employees and routine contract workers such as cleaning staff their regular wages and benefits during the closure, and don't charge membership fees for this period when members won't be able to safely use your services.
Why is this important?
UPDATE as of April 29:
WeWork is making it increasingly clear that they do not care about the health and safety of their workers or members. Every WeWork location in North America is open and they plan to remain open in violation of many state and local stay-at-home orders.
This petition is only one step to pressure WeWork to close. Please also report WeWork to your local Attorney General.
In DC where I live, that's District AG Karl Racine, and DC residents can submit consumer complaints at https://doag-sandbox.force.com/dcoagcomplaints/s/. All petition signers in the United States, please take a minute now to look up your state or territory's Attorney General and file a complaint if WeWork is open in your area in violation of a stay-at-home order.
Original text as posted March 15:
WeWork can and must practice the leadership it claims in the coworking space by taking action now to protect both the physical health and economic health of its workers and members.
Shared surfaces and especially shared kitchens are a major way the coronavirus spreads. Increasing routine cleanings is not sufficient to protect WeWork workers, members, and the people we share our homes with. Other coworking spaces are closing their doors out of a well-reasoned sense of responsibility to the public, and The Wing has announced it will not charge its members in their next billing cycle.
Data coming out of countries with robust COVID-19 testing shows that many asymptomatic 20somethings are testing positive for the novel coronavirus, meaning they might not be concerned for their own health but they will spread the virus to others unless they practice social distancing. People like me in our 20s, 30s, and 40s who don't feel ill are exactly the people I've seen voluntarily coming to my WeWork these last few weeks, and while a week ago it wasn't widely understood how severe an impact healthy people going about our regular routines would have on the pandemic, we know now. Coworking is a threat to public health and cannot continue during the coronavirus pandemic.
I'm a WeWork member in Washington, DC and have been since 2015. I've been going to my WeWork daily despite the mounting scientific evidence of the need for social distancing because I'm a sole proprietor and I rely on my daily walk to the office, the delicious coffee, my desk with its bright natural light, and the friendly faces to keep me sane and provide a little stability during the roller coaster of building my business -- which turns five years old this week! As a small business owner I can't afford to pay for services I don't use. WeWork, a multinational corporation that recently gave its failed former CEO a golden parachute worth hundreds of millions of dollars, can afford to do the right thing by its members and workers.
Big companies like WeWork are absolutely capable of moving money around in order to simultaneously pay its workers and suspend membership fees. WeWork, do your part in preventing this public health emergency from triggering an economic collapse. If you choose to close now and do so with the physical and economic health of your workers and members top of mind, many fewer people will die, many fewer small businesses will fail, many fewer people will fall into poverty, and you'll probably get a pretty sweet PR boost too. No more excuses. Close all your offices now.