To:

Tom Linebarger, CEO Cummins, Inc. Columbus, Indiana
A Petition for Affordable Health Care at Cummins, Inc.

Cummins Workers & Community Alliance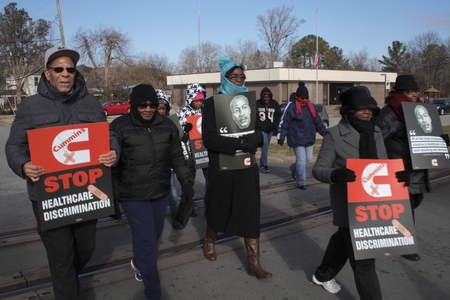 We, the undersigned Cummins employees, appeal to CEO Linebarger to relieve the undue financial burden that the company's high-deductible health plan places on workers and families. We call on you to:
1. Reduce deductibles and out-of-pocket maximums;
2. Increase company contributions to the HSA to cover deductibles;
3. Offer equivalent costs and services of the primary care "LiveWell" center at headquarters to all Cummins employees in the U.S.; and
4. Allow employees to keep union health plans where they exist.
Why is this important?
Health care is a human right. Accessible, affordable health care should be available for all, not just the rich. Yet Cummins, Inc. – the $20 billion global diesel engine company – is forcing its employees into health insurance plans that have deductibles as high as $6,000/year for family coverage and can leave families with tens of thousands of dollars in annual out-of-pocket costs. This is immoral.
Our health insurance does anything but keep us healthy. In fact, many of us go without our prescription medicine, or don't go to the doctor, or don't get new glasses, because we fear the thought of potential medical bills.
If we do seek medical attention, we can be overwhelmed with debt so large we are forced to work overtime, or negotiate monthly payments, or pay with credit cards that accrue interest, or battle with bill collectors.
Even those who are healthy struggle, as young families are consumed with pregnancy and childbirth costs. Many Cummins retirees say they can't afford to be part of Cummins' retiree insurance despite devoting their lives to making Cummins successful.
Cummins is a Fortune 500 company that reported $999 million in net profit in 2017. In 2016, the company built a primary care "LiveWell Center" at its headquarters in Columbus, Indiana. It is a state-of-the art facility that provides free and reduced-cost healthcare services such as primary care doctors, free lab work, and free x-rays. It's convenient for Cummins executives and workers in the surrounding areas, but not for the thousands of employees who live in other states.
Cummins should ensure that its employees can access needed medical care without wiping out their paychecks and their savings. No one should risk their health or their life because they're afraid of the cost of care. Do the right thing and provide us with health insurance that covers the health care we need year-round, not insurance that doesn't kick in until we spend thousands out of our own pockets each year.