To:

Uber, Lyft, the City of Chicago
Gig Workers Demand A Fair Deactivation Process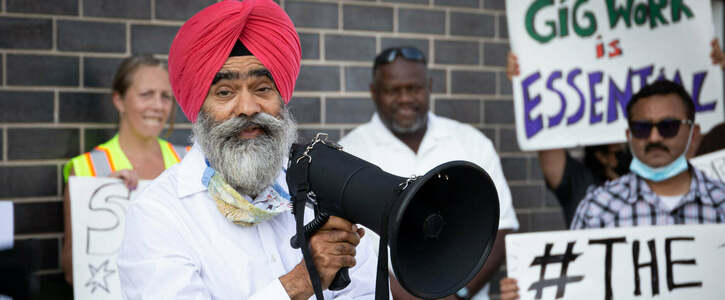 We demand that there be a fair, transparent process in place to allow workers in the gig economy who have been accused of wrongdoing to respond to allegations and provide proof of their innocence.
We also demand that the City of Chicago oversee deactivations, as they currently do in NY and Seattle, and manage the appeals process through their administrative court system, just as it has been done for taxi drivers for years.
Sign our petition to demand a fair and transparent process for handling deactivations and help raise labor standards in the gig economy to protect its valuable and vulnerable workers!
Why is this important?
People working in the gig economy, such as drivers for transportation giants like Uber and Lyft, face many challenges. They don't receive any employee benefits or protections, and the work they do is also inherently dangerous. Drivers lose their lives in carjacking incidents, they have a high likelihood of being in an accident due to long hours on the road and they are often targeted by municipalities for expensive tickets. To add insult to injury, some of the most loyal, hardworking drivers can often find themselves out of a job due to unverified customer complaints. At the moment, if a customer complains about a driver to Uber or Lyft, even if there is no evidence that the claim is valid, drivers can be deactivated and have no ability to appeal or defend themselves against the allegation. Riders are incentivized to complain as they receive discounts if they say their driver did something wrong. There is no accountability or transparency in how these complaints are handled by the companies.
This places thousands of workers and their families in financial hardship. Nationally, about 70% of Uber and Lyft drivers are BIPOC or immigrants, and poor labor standards further harm these already vulnerable populations, even while the City of Chicago and gig companies publicly claim to be working to improve conditions for these very people. These workers keep our city running every day, and made Uber and Lyft executives rich with their labor; they deserve a voice!
Manminder Sethi, one of the original drivers in Milwaukee Wisconsin, started driving on Uber black first and later joined Uber X nearly 7 years ago. He had over 19000 rides and a rating of 4.93 when he was suddenly deactivated. When he tried to find out why, he was given reasons that ranged from unsafe driving to sexual harassment. Manminder has had no tickets related to unsafe driving, and he offered to provide the dash cam footage for the ride in question but Uber never responded to his requests.
Chicago driver Mehrez Sahli, another long-time driver on the platform, started working with Uber Taxi first for a year or two, then also moved on to Uber X. He had 5,710 trips over 3.5 years on Uber X and a rating of 4.94 when he was suddenly deactivated. When he went to the Uber hub to ask why, he was told he was "manipulating" surge pricing by moving from a low surge area to a high surge area before accepting a ride. As this is the way the app is intended to work (surge pay is incentive to drive from a less busy area to a busy area) it is still unclear what the real reason for the deactivation was.
However, in Mehrez's case, not only was he deactivated from Uber, but Uber then also communicated something to the City of Chicago who then communicated that information to Lyft and he was summarily dismissed from Lyft as well. Typically, this is the process that would be followed if a driver were being deactivated for a serious offence such as assault or intoxication on the job, yet no such allegation has ever been communicated to Mehrez.
Maurice Clark of Chicago was accused of falling asleep behind the wheel and was deactivated from Lyft with a driver rating of 4.98 and 5,734 rides under his belt. He has never had a ticket or been in an accident in relation to unsafe driving, and the details of the ride have been withheld from him. He was told by Lyft in an email that he was not permitted to "appeal or protest" the decision.
Another Chicago driver, Hiep Can Tran, was deactivated from Uber due to an unspecified customer complaint after he completed 6,034 trips. He has called Uber repeatedly and visited the Uber hub but has never been told the details of the complaint. Hiep was supporting his small children using the money he made driving Uber and losing his income suddenly was a major financial hardship for him. He has been able to start driving for Lyft, but he has not been earning as much and still wants to know why he was deactivated from Uber. He maintains a 4.99 driver rating on Lyft at this time and has no tickets or accidents on his driving record.
JC Muhammad of Chicago was deactivated due to a customer complaining that he was speeding after completing 3035 trips. He has received no tickets or warnings due to speed, and in fact believes that the complaint was made sarcastically as he typically drives the speed limit or under. Uber has offered no proof of the violation and again has denied JC the ability to defend himself or provide proof to the contrary.