To:

Employers around the world
🚨UPDATED🚨: Global Retail Worker Sick-out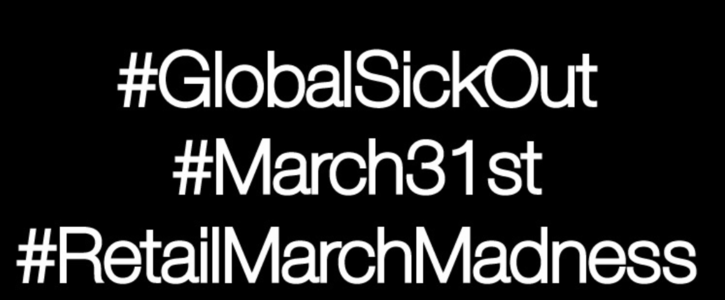 🚨UPDATE🚨
As this situation has progressed, our fundamental needs as workers have become more urgent. COVID-19 poses a very real threat to the safety of our workforce and our customers. We cannot wait for politicians, institutions, or our own management to step in to protect us.
We call on all Whole Foods Market employees to engage in a mass sick out on:
🚨MARCH 31st🚨
We will be staging this sick out earlier than initially planned. Whole Foods employees are already getting sick. We must act NOW.
On March 31st, DO NOT GO TO WORK. Whole Foods has temporarily relaxed its strict attendance policy, which means that team members can participate in this act of protest without fear of reprisal. We encourage all retail workers at other companies to join us in this act of solidarity.
We call upon Amazon to allocate the necessary resources for us to do our jobs safely. We need:
-Guaranteed paid leave for all workers who isolate or self-quarantine instead of coming to work.
-Reinstatement of health care coverage for part-time and seasonal workers.
-Increased FSA funds to cover coronavirus testing and treatment for all team members, including part-time and seasonal.
-Guaranteed hazard pay in the form of double pay during our scheduled hours.
Implementation of new policies that can facilitate social distancing between workers and customers.
-Commitment to ensuring that all locations have adequate sanitation equipment and procedures in place.
-Immediate shutdown of any location where a worker tests positive for COVID-19. In such an event, all workers should continue to receive full pay until the store can safely reopen.
Amazon and its subsidiary Whole Foods dared to keep open an Amazon warehouse and two Whole Foods stores where employees tested positive for COVID-19. We must prioritize the health of our workers over short-term financial gain.
We are working harder than we have ever worked. We are putting our lives at risk. We deserve to have our needs met. Let's make sure it happens.
In love and solidarity,
Whole Worker's National Organizing Committee
📢Older petition below📢:
Accept the demands of retail workers worldwide and stop violating the labor rights of workers. Our leaders' response to the coronavirus pandemic thus far has made one thing abundantly clear: they care more about maintaining their profits than the health, well-being and even the lives of their employees.
Why is this important?
We are a labor movement within Whole Foods known as Whole Worker. Just the other day, we exposed Whole Foods' cruelty and indifference by asking struggling workers to donate their own hard-earned PTO to support one another while being owned by the richest man on the planet. Even in a time of international crisis, Whole Foods continues to show reckless disregard for our safety and chooses profits over life. Sadly, this is not a problem unique to Whole Foods and Amazon. It is in-fact the reality for retail workers all over the world.
Therefore, we are calling on all Whole Foods team members and retail workers worldwide to join us in a globally organized sick-out happening on May 1st, 2020. Our leaders and executives believe that profits are more important than our health, our wellbeing and ultimately, our very lives. Join us on May 1st by calling out sick to work and show your leaders that profit is generated by the workers. Please sign this petition and share with your friends, co-workers and fellow retail workers everywhere.
We also call on the AFL-CIO and CtW to begin organizing the unorganized and supporting this effort. Instead of donating millions of dollars in anonymous campaign contributions to corrupt politicians who continue to fail working class people, assist in the creation of a sick-out fund for non-union workers and support grassroots organizers fighting for a better world. Additionally, we call for our presidential candidates and other public officials vying for re-election to explicitly stand with us by guaranteeing to pass progressive policies that will improve working conditions and update labor laws, including a clear federal law against anti-union busting. We call for our elected officials to stop accepting dark money from powerful corporations to fund their campaigns to fuel empty promises.
Workers in this country fought and died for the right to organize and a 40-hour work week. However, these have been taken away from us as global capitalism has ravaged the gains the labor movement achieved this past century. In the midst of this pandemic and as we stare over the edge towards ecological, political, and economic collapse, we will still continue organizing and fighting. We hope and know a better world is possible, and we know that we can achieve it.
Martin Luther King once said:
"The labor movement was the principal force that transformed misery and despair into hope and progress."
The coronavirus pandemic has made it clear to workers around the world that corporations are willing to sacrifice their morality and society as a whole for short term gains. All they want is to continue to exercise control to keep us silent. This is why workers need power in the workplace.
It is time we flex. It is time we fight back.
Please join us on May 1st, 2020.
In solidarity,
Whole Worker's National Organizing Committee