To:

Brian L. Roberts, CEO of Comcast
I'm fighting sexual harassment at Comcast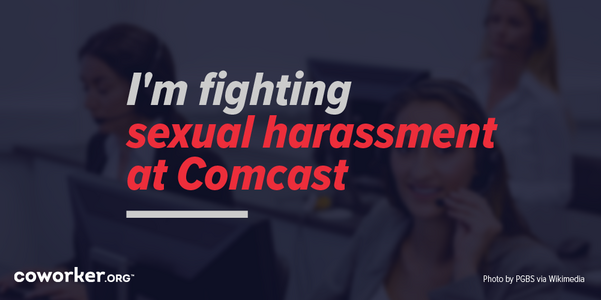 Content Warning: The following contains references to experiences of sexual harassment in the workplace.
I worked at Comcast for five years, and during this time, my co-workers and I were subjected to lewd comments and unwanted sexual advances by male colleagues. On one occasion, I experienced groping. The culture of sexual harassment at the Comcast call centers I worked at was pervasive and difficult to escape. I felt constant fear and anxiety around certain male colleagues, and would try to avoid and limit contact if possible. I had to develop coping strategies, such as training myself to only listen to work-related words while filtering out words that were sexually driven. It was mentally exhausting.
Comcast needs to take these allegations seriously and begin an investigation into sexual harassment and misconduct in Comcast's call centers and other workplaces immediately. Join me in demanding that Comcast acknowledge its sexual harassment problem and take immediate action to fix it.
Why is this important?
We can no longer be silent about the sexual harassment that may be occurring in Comcast locations. I worked at Comcast call centers in Washington, DC, then Silver Spring, MD, and finally Millersville, MD from 2007 through 2012. At the Millersville location, I felt so uncomfortable around certain male coworkers that I often used the restroom on the other side of the building just so I could avoid being in their presence.
When I finally had the courage to report these incidents to our human resources department, I felt that my managers and the colleagues that I had reported retaliated against me. I received threats walking down the call center hallways and was likely singled out during the then upcoming mid-year review. I felt afraid and trapped. I loved my job and I was good at it. My goal was to give customers a positive experience with Comcast and the company's services, reversing the negative image many have associated with cable companies. But this became increasingly difficult for me to fulfill in Comcast's toxic work environment.
Comcast must act swiftly to address this problem, by conducting an independent third party review of its sexual harassment policies and employee experiences. In conjunction with solutions from this review, I believe the following changes will help employees like me who may still be dealing with harassment at Comcast:
1. HR representatives should be present at call centers and large Comcast workplaces
2. Protect Comcast employees from retaliation for reporting sexual harassment to HR
3. Fire perpetrators of sexual harassment in Comcast workplaces
We all deserve a workplace where we can come in and do good work without distraction. We deserve a workplace where we feel safe and empowered to make positive contributions to the company. I believe Comcast's lax implementation of its sexual harassment policies creates a tremendous amount of stress and anxiety for many employees, especially women employees.
At the end of the day, the pervasive culture of sexual harassment I experienced at Comcast is bad for business. As an employee of Comcast, my work performance suffered as a result of consistent experiences of sexual harassment. While working at the call center, Comcast customers likely could even hear the sexual and inappropriate comments being made in the background.
Most importantly, acts of sexual harassment violate employees' dignity as human beings. Many Comcast employees may have felt powerless to speak up for themselves and address the situation because HR was not doing enough to protect us from workplace harm. Comcast must be held accountable for its sexual harassment problem and create a safe, respectful work environment.