To:

Paul Blum, Juicy Couture CEO and William L. McComb, Fifth & Pacific CEO
Juicy: Take Care of Your Workers

Retail Action Project (RAP)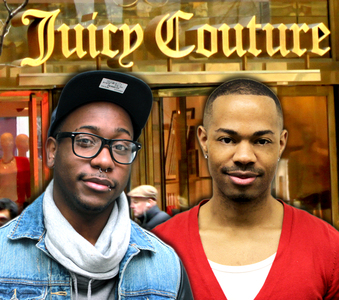 You're eliminating full-time positions and capping hours to avoid giving retail workers paid sick days and health care. Juicy Couture's employees work hard and deserve better. We're calling on Juicy to remove restrictions on hours & provide full-time opportunities to your employees. We deserve Just Hours!
Why is this important?
My name is Duane, and I'm a proud father of my beautiful five-year-old daughter. I worked at Juicy Couture's flagship store on 5th Avenue in New York City for almost four years in the stock department. I started this petition with my coworker Darrell, because while we stock & sell Juicy Couture's $200 jeans and sweaters, the company decided they don't want to take care of their workers.
Darrell was a successful full-time sales associate for two and half years, until the company started pushing full-time workers out. When I started, I also got 40 hours a week, but I struggled along with my coworkers as our hours were cut. Eventually, I was down to 14 hours each week. When I asked for more hours, they said they couldn't give them to me because I didn't have open availability – because of my daughter.
When we began working at Juicy Couture, many of us were full-time. Now, only 19 of the store's 128 employees are full-time! Not only are they firing full-time workers and replacing us with a part-time workforce, just this month Juicy capped all part-time workers hours at 21 hours per week. We quickly realized that Juicy Couture is doing everything they can to not take care of its workers.
See, it was hard enough for us to make ends meet in New York City as full-time retail workers. But by keeping hours under 30 per week, Juicy Couture will no longer be required to offer their workers affordable health care – part of the Affordable Health Care Act's plan to make sure more working Americans have basic health care. Further, we were told we're only eligible for paid time off in case we're sick or have other responsibilities if we work 1400 hours in one year. We did the math, and realized part-time workers reach that at 21 hours per week. This means that the vast majority of Juicy Couture's workers will not ever get one single paid sick day.
Darrell and I are just two of the full-time employees that have been forced out of Juicy Couture by having our hours cut or being fired. Now we're speaking out on behalf of my coworkers who remain at the store, because we all deserve Just Hours.
We know from experience that Juicy has loyal customers and dedicated employees -- if enough of us speak out and demand Just Hours, they'll have no choice but to act.