To:

Peter D'Amelio, President and CEO
Matchbox: Respect Your Workers' Rights to Organize!

Many Languages One Voice
We are pleased to announce that the #Matchbox5 have reached a settlement with Matchbox to resolve their claim that Matchbox fired them in retaliation for defending their rights at work. In addition to a monetary settlement, as part of the settlement through the National Labor Relations Board (NLRB), Matchbox will post bilingual notices of their workers' rights to organize and take collective action to improve working conditions at both their Chinatown and Pentagon City locations for the next 60 days. Find out all the details here: http://www.mlovdc.org/blog/when-we-organize-we-win-matchbox5-reach-settlement-with-company-for-unjust-firings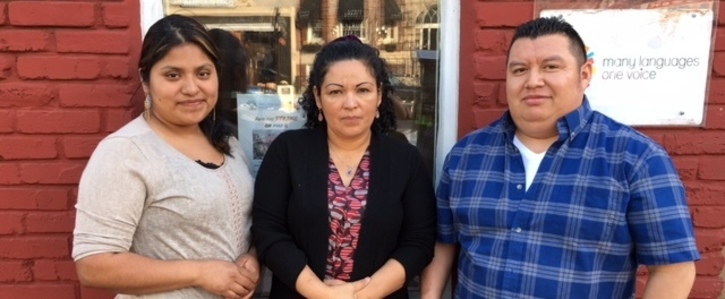 We, five workers of Matchbox who have been fired in retaliation for defending our rights, ask that Matchbox Food Group President & CEO Peter D'Amelio pay us a severance of 2 pay periods for every year that we worked for his company.
Additionally, we ask that he change his policies to:
a) Guarantee a 15 minute break in the morning and a 30 minute break in the afternoon;
b) Make sure the schedule is respected and that they do not demand that we stay past our scheduled hours;
c) Reduce the amount of work that is given to prep workers.
--
Nosotros, trabajadores de Matchbox despedidos en represalia por defender nuestros derechos, pedimos que Peter D'Amelio nos indemnice 2 quincenas de trabajo por cada año trabajado para la compañía.
Además, pedimos que cambie sus pólizas para:
a) Garantizar los descansos de 15 minutos en la mañana y 30 minutos en la tarde;
b) Que respeten el horario y dejen de insistir que los trabajadores se queden después de su horario establecido;
c) Bajar la cantidad de trabajo que hay para los que trabajan en preparación.
Why is this important?
Background:
Ana Hernandez, Altagracia Reyes, Alejandro Roman, Lucas Efrain, and Angel Morales were all fired from their jobs at Matchbox throughout March, 2017. They believe that they were fired in retaliation for taking concerted action to protest unfair working conditions and have organized to take community and legal action. Read their testimonies below and add your signature in support!
(Ana Hernandez, Altagracia Reyes, Alejandro Roman, Lucas Efrain, y Angel Morales salieron despedidos de sus trabajos en Matchbox en varias fechas en Marzo, 2017. Creen que han sido despedidos en represalia organizarse para protestar condiciones laborales injustas, y se han organizado para tomar acción comunitaria y acción legal. Lean sus testimonios aquí y agregue su firma en apoyo!)
TESTIMONIES:
Ana Hernandez: "I had been working for Matchbox in the kitchen for nearly 8 years when I was fired. I worked at Matchbox Chinatown for the majority of the time, until March 1, 2017, when they told me that I had to accept a transfer to Pentagon City or I would not have any more work. As soon as I started at Pentagon City, I saw the amount of abuses that there were there. There was no break, we didn't eat all day, we didn't even want to drink water because there wasn't any time to go to the bathroom. The list of tasks for the prep workers is so long that I was never allowed me to leave on time to go to my English classes at night.
I started a petition and asking my coworkers to sign to demand better working conditions. I had gotten eight signatures, when the sous chef asked my coworker Alta why I was asking for signatures. Three days later, the chef called me and said that he wanted to talk to me. The next day, after my shift, the chef called me over and fired me."
Altagracia Reyes: "I have worked in the kitchen at Matchbox on various occasions since 2006, in Chinatown and Pentagon City. When I started at Pentagon City, they increased the amount of work and started being disrespectful. I signed Ana's petition because I agreed with the goals. The day after Ana was fired, I had to defend my coworker, because she was being given too much work and she is a pregnant woman. I asked the chef to give us more staff to help us with the prep work. My coworker started to cry and explained to the chef that her doctor says the baby is underweight and that she isn't allowed to eat all day. I stood up for her, but the chef said that it didn't matter to him neither if anyone is pregnant or if we use the bathroom.
The next day, I went with three coworkers from Matchbox to the corporate office. We told the president of the company about the abuses that we were experiencing in his restaurant. But the next day the chef sent me a text that just said, 'No más trabajo (no more work).'"
Alejandro Roman: "I have worked in the kitchen at Matchbox Chinatown for seven years, without a break and without a vacation. In January, they started changing us around to different stations, without training us or asking us, and they started to fire people, reducing the amount of staff working at each station and increasing our total amount of work.
On the Day Without Immigrants, on February 16, we all agreed to participate in the strike. The chef called us to him individually and asked us if we were going to work that day. It was my day off, and when he asked me to work that day I told him I couldn't. Two weeks later, the chef changed our stations around again. He put my coworker, Angel, on the station making dough and on the oven. I helped Angel tell the chef in English that he couldn't work at that station, because he didn't have the necessary training and because the heat from the oven hurts his eyes. The chef said, "I don't care." I told him that he needed to be respectful of his people. I told him that I was going to go and speak with his superior, and he immediately gave me a punch card, and told Angel and I, and our coworker Efrain, that we were fired."
Angel Morales: "I'd worked about two years in Matchbox before I was fired. When I heard about the general strike on February 16, I decided to participate with my coworkers. When the chef asked me if I was going to work that day, I told him that I couldn't because I was participating in the Day Without Immigrants.
Two weeks after the strike, they moved me to a different station, they sent me to make the dough and to put the pizzas in the oven. Besides that I don't know that station, I also have a problem with my eyes and it's damaging to them to be in front of the oven. I asked my coworker Alejandro to help me explain to the chef my problem in English, and the chef said that it didn't matter and that I had to do it. I told him again that I couldn't, and he fired me. That was when Alejandro argued with the chef, and they ended up firing all three of us."
Lucas Efrain: "I started to work at Matchbox in 2012, left in June, 2014, and started to work there again in December, 2016. Before the Day Without Immigrants, the chef asked us individually if we could work that day, and I told him that I couldn't. He asked me why, and I told him because I was going to support the Day Without Immigrants. "If you don't work, I will take other measures," he said.
About two weeks later, when I got to work in the morning the chef sent me to work on the salad station, although I am always on the fry station. I told him that I didn't know how to prep the things for the station, but that when all the ingredients were filled, I could take the tickets because I knew how to make the salads. He said that it didn't matter, that I had to work there. I can't, I said. While this was happening, the chef was also arguing with Alejandro. He said "bye" to all three of us, and were were all fired together.
We aren't the first nor the last people suddenly fired unjustly. They have a pattern of firing people without any justification. Many people have been fired."