To:

Harvey Metro, CEO
Matchbox: Respect Your Workers Rights!

ROC-United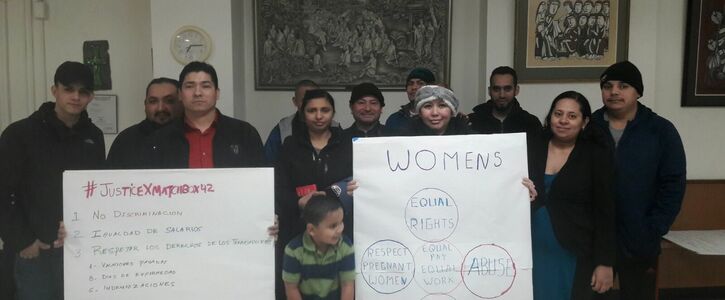 In August 2017, 42 of us were pulled one-by-one into closed door meetings to sign a form we were not allowed to read. Upon signing, we were informed that our long-time employment had come to an end. Many of us had been with the company since it opened the Rockville location in 2010. Matchbox repaid our dedicated service by giving us only three days notice and no severance pay. When our co-workers (that remained employed at the company) joined our campaign they were met with their own closed door meetings. People were interrogated for standing in solidarity with us. The leaders in our campaign were even offered bribes to drop the campaign. The company is clearly committed to ensuring no one is safe, healthy, or empowered at work.
After years of dedicated service (despite abuse, discrimination, and retaliation) we call on the company to pay us a severance of two pay periods for every year that we worked for the company.
We also ask that they:
-pay people their lawfully earned sick days
-desist intimidating workers who attempt to organize
-respect employee schedules, time-off, and breaks throughout each shift
-abstain from discriminating against and abusing pregnant people in any way
-establish salary equality for the same work without differentiation between gender
-enact transparent communication with workers when undergoing ICE investigations
-grant severance pay in cases of just cause separations
(En agosto del 2017, 42 personas fueron llevadas una por una a reuniones a puerta cerrada para firmar un documento que en ese momento no se nos permitió leer. Al firmar, se nos informó que nuestro empleo de larga data había llegado a su fin. Muchos de nosotros hemos estado con la compañía desde que abrió la ubicación de Rockville en 2010. Matchbox pagó nuestro servicio dedicado con darnos solo tres días de aviso y sin indemnización por despido. Cuando nuestros compañeros de trabajo (que permanecieron empleados en la empresa) se unieron a nuestra campaña, se encontraron con sus propias reuniones a puertas cerradas. Las personas fueron interrogadas por solidarizarse con nosotros. A los líderes en nuestra campaña incluso se les ofrecieron sobornos para abandonar la campaña. La compañía claramente está comprometida a garantizar que nadie esté seguro, saludable o con poder en el trabajo.
Después de años de servicio dedicado (a pesar del abuso, la discriminación y las represalias) solicitamos a la compañía que nos pague una indemnización de dos quincenas de pago por cada año que trabajamos para la compañía.
También pedimos que:
- pagar a las personas sus días de enfermedad como lo órtga la ley
- desistan de intimidar a los trabajadores que intentan organizarse
- respeten los horarios de los empleados, tiempo libre y descansos en cada turno
- se abstengan de discriminar y abusar de las personas embarazadas de cualquier manera
- mantengan igualdad en salario por el mismo trabajo sin diferenciación entre género
- establezcan comunicación transparente con los trabajadores cuando se someten a investigaciones de ICE
- indemnización por despido en casos de separaciones por causa justificada
Why is this important?
We would like fellow restaurant professionals (front and back of house) regardless of nation of origin, status, race, gender, age, or identity to know that you are not alone. You deserve dignity and respect at work: the law is on your side. Stand together and make your voices heard. We stand with you.
(Nos gustaría que los profesionales de los restaurantes (igual los de enfrente y los de la cocina) sin embargo de su nación de origen, estatus, raza, genero, edad o identidad que sepan: usted no está solo. Todos merecen dignidad y respeto en el trabajo: la ley está de su lado. Permanezcan unidos y levanten sus voces. Nosotros estamos unidos con ustedes.)
The company has declined to hear us. Please read our testimonies, and sign and share our petition in support. Thank you.
(La compañía se ha negado a escucharnos. Por favor lea nuestros testimonios, y firme y comparta nuestra petición en apoyo.)
Testimonies (Testimonios)
----------------------------------------
Maria D.
I worked for the company for two years as a busser. I was paid $5.00 per hour plus $15-$20 in tips. This was my compensation regardless of whether I worked half day or a full day. When I was four months pregnant I was asked to move heavy boxes. I spoke up to let them know that those boxes were too heavy for me that far along in my pregnancy. They responded forcing me to move them and by shortening my schedule to two hours a week. The entire time I worked there they never allowed me to have rest or food breaks. I was never granted a paid sick day.
(Trabajé para la compañía durante dos años como busser. Me pagaron $5.00 por hora más $15- $20 en propinas por día. Esta fue mi compensación independientemente de si trabajé medio día o un día completo. Cuando tenía cuatro meses de embarazo, me pidieron que moviera unas cajas pesadas. Les hice saber que esas cajas eran demasiado pesadas para mí a esa altura de mi embarazo. Respondieron con obligarme a moverlas y cortaron mi horario a dos horas a la semana. Todo el tiempo que trabajé allí nunca me permitieron descanso ni tiempo de comer. Nunca me concedieron un día de enfermedad pagado.)
----------------------------------
Maria O.
I experienced a lot of discrimination up to and including verbal and physical abuse. On one occasion, I was working on the line with one other coworker making pizzas. The chef joined us on the line to help us because it got busy all of the sudden. He put the pizza into the oven using the wooden pizza peel and proceeded to throw it at me. He was obviously upset, so I just moved into a corner and kept trying to work.
He would refer to me as a useless. When I was pregnant and I asked for a day off they would give me an unpaid day off and then take an additional day off my schedule for the week. On another occasion I was reprimanded for something I hadn't done. Because I was pregnant my blood pressure got so high I ended up in the hospital. Not once during my entire pregnancy was I allowed a break to eat. I honestly believe that the company takes advantage of people's need to work and discriminates based on gender and nation of origin. I started earning $11.00 per hour. I worked there for six years and never saw a pay increase, nor had a paid sick day.
(Experimenté mucha discriminación e incluso abuso verbal y físico. En una ocasión, estaba trabajando en la línea con otra compañera haciendo pizza y el chef ejecutivo se unió a nosotros porque se puso muy ocupado de repente. Despues de haber metido la pizza al horno él procedió a tirarme la tabla que se usa para meter la pizza al horno. Porque el estaba obviamente muy molesto yo solamente me mudé a una esquina y seguí intentando trabajar. Él rutinariamente se referiría a mí como una babosada.
Cuando estaba embarazada, si pedía un día libre para una cita con el médico, me daban un día libre sin pagar. Luego tomarían un día adicional de mi horario para la semana. Lo que de hecho me dejó dos días sin trabajo y pago en una semana. En otra ocasión, fui reprendida por algo que no había hecho. Debido a que estaba embarazada, mi presión arterial se elevó tanto que terminé en el hospital. Ni una sola vez durante todo mi embarazo se me permitió tomarme un descanso. Sinceramente, creo que la empresa aprovecha la necesidad de las personas de trabajar y discrimina en función del género y la nación de origen. Empeze ganando $11.00. Trabajé allí durante seis años y nunca vi un aumento en salario, ni tuve un día de enfermedad pagado.)
-------------------------------------------
Santos M.
I suffer from a disease that occasionally makes my hands and feet swell and causes a lot of pain. They never understood that some days the pain and swelling was so great I could not walk or hold anything without excessive pain. Instead of allowing me the time to treat the swelling so I could work better, the chef would pressure me to work faster while insulting me for my symptoms. I worked there for five years. The last day I worked there was because the chef told me I was of no use to him because of my disease. He told me to go home and he never wanted to see me again.
(Yo padezco de una enfermedad que ocasionalmente hincha las manos y los pies y causa mucho dolor. Nunca entendieron que algunos días la inflamación era tan grande que no podía caminar ni sostener nada sin un dolor excesivo. En lugar de darme el tiempo para tratar la inflamación para poder trabajar mejor, el chef me presionaría para que trabaje más rápido mientras me insultaba por mis síntomas. Trabajé allí cinco años. El último día que trabajé allí fue porque el chef me dijo que no le servía para nada debido a mi enfermedad. Me dijo que me fuera a casa y que nunca más me quería volver a ver.)