To:

MICROSOFT's leadership: CEO Satya Nadella, Executive Legal Counsel Brad Smith
MICROSOFT: Give Memorial Day as paid leave holiday to your supplier's employees

Temporary Workers of America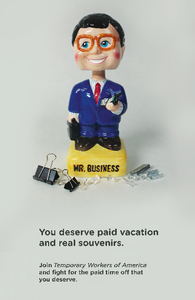 On March 26th, Microsoft announced it will now require it's suppliers to provide at least 15 days of paid leave to their employees because they said 'paid time off matters'. We completely agree and we think this commitment should start being implemented for the coming Memorial Day for the thousands of people working for Microsoft via contractors.
Why is this important?
Thousands of people have worked for years for Microsoft via contractors-vendors, without having any paid time off. We think Microsoft's new policy should be fully implemented as soon as possible and Memorial Day seems a perfect and very symbolic date to start providing paid leave.
Considering the present compensation rate of the 37 or so Tier1 tester/reviewers working for Microsoft and paid via Lionbridge Technologies we estimate the cost for one paid leave day is $5204. In comparison, Lionbridge CEO, Rory Cowan made last year between $1.522.275 and $2.89 million (that's including part of his stock options). Taking into account his $1.5 million compensation, one paid leave day for the 37 employees represents less than one day of Cowan's income and less than 4 hours when choosing his $2.9 million income. For the first quarter of 2015, Lionbridge posted record earnings and bought back 254.000 shares of its common stock for $1.4 million.
We don't see any technical or financial obstacle to providing Memorial Day as a holiday for all contract employees and it would be a tangible sign that Microsoft takes its commitment seriously and will implement it promptly.