To:

Starbucks Coffee Company
Starbucks Employees Support Black Lives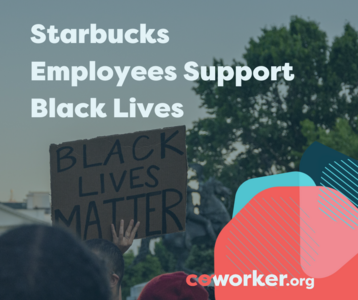 In signing this petition Starbucks employees stand in support of the nationwide protests and the Black Lives Matter movement. This petition will show Starbucks corporate that its employees stand in support of protesters and believes the company should as well. Once this petition receives signatures it will be sent to Starbucks Corporate and the workers union in hopes that they will follow through for their communities and pledge their support. There is a Facebook group of the same name (https://www.facebook.com/groups/860220621130704/) that gives room for discussion and support for partners signing this petition.
The following is the letter that will sent to Starbucks Corporate along with the signed petition:
The employees of multiple Starbucks stores around the nation are asking Starbucks corporate to use their locations, supplies, and voice to support the protests around the nation that are demanding justice for the murder of George Floyd and other black men and women killed by police officers. Starbucks has the opportunity to be the first international company to show support for the demonstrations, giving power to their employees and the communities they live in. Through the following requests Starbucks can support protestors, giving them food and supplies. Taking a stand with the people will show that vulnerable communities can depend on large companies like Starbucks.
Requests:
Donate any end of day bakery and recently expired (24 hours) items to local food sites for protestors
Add in depth training across stores about negative racial bias and extend tolerance training.
Fill cambros, cups, and/or coffee travelers with water to give out to combat the effects of police tear gas and pepper spray along with general thirst
Allow employees to attend protests and marches without repercussions
Donate money and/or spread links for local jail and supply funds, for example the Minneapolis Freedom Fund (https://minnesotafreedomfund.org) and the Milwaukee Freedom Fund (https://fundrazr.com/mkefreedomfund?ref=fb_19CDk2_ab_8MxMs9UdFx48MxMs9UdFx4)
Publicly come out in support of black lives and black communities*
If Starbucks donates their time, supplies, or voices to Minneapolis the impact would be invaluable. If Starbucks spreads that support to other major cities in protest, such as New York, NY and Los Angeles, CA, the impact would never be forgotten. Starbucks partners would also benefit from these actions in multiple ways, including the addition of hours for stores to put together donations and deliver them. Partners across the nation should also be given the chance to step up and volunteer to take lead on initiatives in their stores, giving them a connection to their community and a chance to have their voices and ideas heard.
Starbucks has worked towards making the world a better place through their sustainability initiative, support of LGBT+ workers (along with celebrating Pride Month), and their nationwide training after an incident in Philadelphia in 2018 to spread awareness about racial bias. These actions have put Starbucks at the forefront of large corporation progress and supporting these protests will continue that legacy.
*Coming out in support of BLM and the recent protests does not infer support of anything else. It does not have to mean that Starbucks is anti-police or pro-violence. This support means that Starbucks cares for the safety of every person, regardless of race, sex, gender, or sexual orientation - which is a pillar of the Starbucks corporation that is taught to every employee and shared with every customer. By donating supplies to protestors, Starbucks does not automatically take a major political stance, it just says it supports local communities.
Why is this important?
The protests happening around the nation right now are trying to bring justice to the families affected by police violence and systemic racism. Starbucks can make a huge difference to the people in protest right now, including our own coworkers and family members. The requests in the letter may not seem to ask for a lot, but they would impact people in every city and would give Starbucks a legacy of supporting oppressed communities.