To:

David Brandon, CEO of Toys R Us
Toys R Us: Employees Deserve Severance Pay

United for Respect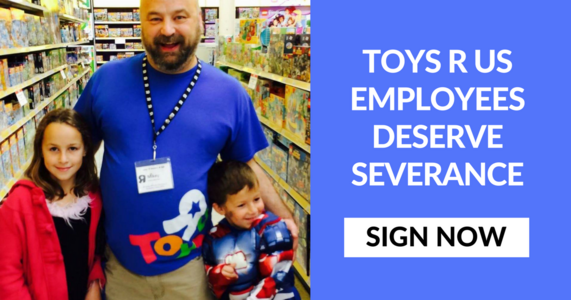 Toys R Us goes bankrupt while paying its CEO and top executives millions of dollars. Thousands of employees are losing their jobs as Toys R Us liquidates its entire operation in the United States.
We call on Toys R Us to give all employees severance pay.
Why is this important?
My name is Mikey and I work at Toys R Us in Eugene, Oregon. This week, I found out from news reports that Toys R Us will shutdown and liquidate its entire U.S. operation.
This news is devastating to say the least. My coworkers and I have no idea what's going on or when our store will close – all of the updates we're getting are from the news and corporate is keeping us in the dark.
I love my job so much. I enjoy working at Toys R Us and helping kids find toys they love in the store. But I've heard that Toys R Us owners are Wall Street companies that don't care about running a toy business – they just want a quick profit.
Thousands of families counting on these jobs will be impacted by Toys R Us' going out of business. We will lose our jobs.
Meanwhile, the CEO of Toys R Us, David Brandon, makes a base salary of $3.7 million. Just days before filing for Chapter 11 bankruptcy protection last September, 5 of the top Toys 'R' Us executives received $8.2 million in retention bonuses. David Brandon received $2.8 million and asked for court approval of up to another $12 million in incentive bonuses.
This corporate greed is hurting me and my family. And it's unacceptable. We're losing our jobs and our livelihoods while these executives gave themselves huge payoffs.
We call on Toys R Us and Babies R Us to give all laid off employees severance pay.
Thanks for standing with us.