To:

Cardinal Health
Cardinal Health Workers Deserve Raises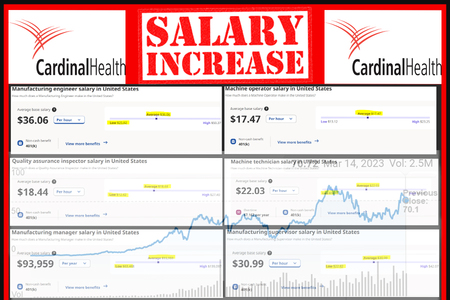 Cardinal Health is a Fortune 500 Company that's currently placed #15 as of 2023.
Many of us full time employees show up for work every day to be overworked due to being short-staffed. We must reserve 2 weeks' worth of our hard earned pto hours for mandatory plant shutdowns. After doing all of this mandatory overtime with no say and being shorthanded in staff we still get no bonuses, decreases of our benefits( $600 H.S.A employer contributions), and if we're lucky maybe a .12 cent or .40 cent raise per every other year. Most of us were promised $1 raises every year when hired but management blames our third-party hiring agencies Aerotek and Randstad USA and say there's nothing they can do about it but still proceed to conduct business with them. We have an issue with new employees making more money than employees that have been with the company 10+ years. If we're considered 'topped out', we get nothing, thus there is absolutely no incentive to keep going. This needs to change especially the false promises of pay raises and promotions. We are below average pay in United States and Florida in all job positions in our manufacturing plant. We don't receive any bonuses and the raises we get are once every other year and are not nearly enough to compete with inflation, we are asking for a 10% annual raise WITHOUT the loss or decrease of any of our existing benefits.. We want bonus checks for Christmas along with base pay increase starting at $17 dollars for a machine operator along with pay adjustments for all other job positions. There is no reason for our employees to be bringing home an average of $425-700 a week especially in Florida for the work and products we provide the world. Essential to Care!
Why is this important?
We love what we do and want Cardinal Health to practice what they preach since they create an image promoting accountability, essential to care, integrity, inclusive, and innovation. We are essential to care and it's essential that Cardinal Health employees to be cared for. Our company has more than enough income to take care of their employees. Cardinal Health currently is facing an Opioid Settlement agreement of 6 billion dollars, 13 million dollars to resolve allegations of kickbacks to physicians and still have the audacity to hold a townhall meeting with Deland, Florida employees on Wednesday March 1 of 2023 informing us we have a $4 billion + budget of investing in our facility but we will not be getting any raises this year. There's Cardinal Health locations that have sign on bonuses, higher pay for less job duties and we still get the shorter end of the stick for working more. We are essential to care and it's time for Cardinal Health to make it a priority to keep their employees happy and remind everyone in the company that our work is not being taken for granted due to greed and that we are all essential to care. Join us in calling Cardinal Health to invest more into their employees and ensure workers they have the respect and dignity we deserve at our workplace. Thank you for speaking out!