To:

Eric Kretschman & Highland Hospitality LLC
Expose Eric Kretschman & Highland Hospitality LLC : Workers Wages Stolen Across All Establishments

ROC-United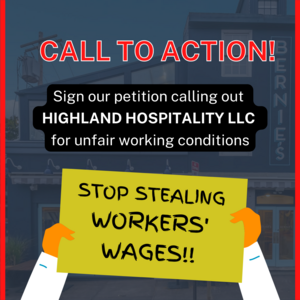 As former and current employees of Highland Hospitality Group, we have endured stolen wages, bounced checks, overdraft fees, unhealthy work environments, and difficulty performing our jobs due to low supply of food/beverages because of outstanding balances with vendors. We demand that Highland Hospitality and Eric Kretschman commit to paying employees and improving work conditions.
A huge lack of transparency with HR processes has staff confused and now can affect our salary.
We Demand all former workers and current workers who have not been paid to be paid in full.
We Demand ownership and issue a letter outlining transparency, as well as a detailed explanation of why our income was stolen. We want an outline of how he plans to no longer conduct business illegally, increase pay transparency to workers, formalize a pay schedule across all locations, and formalize wage policies at each location (tip out, method of payment).
We Demand proof provided of all wages owed being paid, as well as proof of insurance contributions and taxes being paid to the appropriate entities, as well as current records of pay outs and owed credit card and cash tips and tip share.
Due to the history of bounced paychecks, we demand all workers owed back pay be paid via certified check and bounced check or overdraft fees resulting from these bounced checks be reimbursed in full.
We Demand Improved health and safety conditions of all restaurants. Provide adequate security and safety staff/precautions for ticketed and high capacity events. Employees have reported a high volume of mice and insects, broken air conditioning that has been broken for months or years, lack of hot water and more. Highland Hospitality LLC to provide each location's management team with a plan to address and fix and any reported broken appliances, under-stocked supplies and health concerns within 30 days.
We Demand Highland Hospitality LLC show proof of progress on any essential repairs, supply shortages and health issues reported must be completed or resolved no later than six months after the initial report.
We Demand an end to unpaid stage or training.
We Demand Highland Hospitality LLC to pay for a ROC- United or 3rd party formal management training for each management team member currently employed and each new management member hired in the future. New managers must be provided training manuals and complete training by the 90th day of employment. Current managers must all be trained by 08/01/2023.
We demand, in addition to employee wages, payments to vendors, musicians and other organizations that agree to do business with Highland Hospitality LLC must be paid in full and on time. Employees cannot provide good customer experience when the establishment does not have menu items, alcohol and other resources due to nonpayment of vendors.
We Demand that future employees do not face this predatory behavior.
Why is this important?
Philadelphia's Restaurant Industry Professionals must stand up to predatory business owners. They cannot continue to do business in Philadelphia.
Employers should not be benefiting off a thriving and supportive community while providing the community negligent work environments. It is unacceptable. Business owners should not be willing to steal from its staff, obfuscate responsibilities and create financial disasters for employees and community members.
Workers across the country are still recovering from a historic economic crisis and now must face having to fight for wages they earned.