To:

Instacart CEO Apoorva Mehta
Instacart: Here's our 22 cents — no more tip theft, low pay, and black-box pay algorithms

Working Washington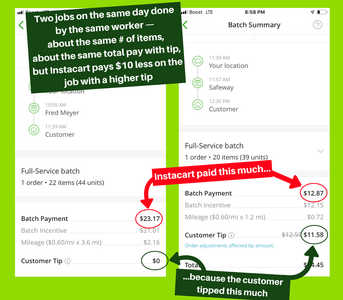 Instacart is changing around their pay structure arbitrarily and treating workers like test subjects with little regard to how our pay affects their lives. As customers and workers, we're telling Instacart that if they want our continued business, they must commit to the following:
1. No more tip theft.
Pass customers' tips directly and fully on to workers. Do not factor customers' tips into the "batch incentive" (base wage) paid by Instacart.
2. No more low-paying batches.
Create a minimum base wage of at least $10 per batch paid by Instacart, and then factor in number of items and a bonus for large items or batches on top of that.
3. No more underpaid time.
Guarantee a minimum pay rate per hour spent actively working on jobs. We should be paid at least minimum wage, plus expenses (including extra payroll taxes), for time spent actively working.
4. No more black-box algorithms.
Provide a clear breakdown of how we're paid, including base wage, pay per item, mileage, any bonuses, and tip.
5. No more discouraging good tipping.
Provide higher tip options for customers, including making the default tip at least 15% rather than 5%.
***WHY YOU SHOULD TIP 22 CENTS***
Until these changes are made, we're asking that Instacart customers tip just 22 cents in the app in a show of solidarity with workers, and to keep Instacart from stealing our tips. (Don't forget to tip in cash or adjust your tip in-app after your groceries are delivered!)
Why is this important?
We are Instacart workers. Some of us work buying and delivering groceries full-time, and some of us work part-time. Some have been on the platform for just a few months, and some for years. But since November, all of us have seen dramatic cuts in our paychecks. Some of us have seen wages lowered by 30-40% overall. Some of us have had to work twice as many hours just to make ends meet. Now, we're speaking out to demand that Instacart address these issues by agreeing to a predictable, transparent pay structure.
Until Instacart implements these changes, we're asking that customers tip just 22 cents up front in the app (then add your tip after delivery or tip in cash) to show that you support workers.
Instacart has changed their pay structure from a predictable system where we knew what each gig would pay and why to a new model where it seems they pay as little as they're able to get away with, and even use customer tips to get away with paying us less. This means they're offering very low wages that can even fall under the equivalent of the minimum wage.
The company claims their new model is more "transparent," but in reality, the new model gives no indication of how pay is actually determined. The pay per job is now inexplicable — and much lower. Under the old model, shoppers were paid a specific base rate per delivery (e.g. $9.25 in Tacoma) and then an item incentive (40 cents per item we picked up). Under the new model, there's no breakdown of how pay is determined. Shoppers often reject jobs only to see the same jobs re-appear minutes later with slightly higher pay, indicating that Instacart is simply trying to sell the job to the lowest bidder with no other obvious standard for how a given job should be paid.
***THE INSTACART TIP PENALTY***
Instacart is also practicing a sneaky form of tip theft by using customers' tips to subsidize their own costs instead of passing those tips directly on to the workers. Under the new model, Instacart pays less to workers for gigs where customers have left higher tips, so customers' tips are essentially being paid to Instacart rather than to the workers ourselves. If customers don't tip up front, Instacart pays more. This essentially works like a tip penalty, where instead of being "extra," tips are just used to make up for not paying workers decently in the first place. Using tips to subsidize Instacart's costs hurts workers and customers alike.
Led by Instacart workers of Washington state: Mia Kelly (Seattle); Corrinne Pettitt (Tacoma); Ashley Knudson (Tacoma); Phoenix Di Corvo (Bremerton); Mark Moran (Seattle); Lori Tripp (Gig Harbor); Hannah Leighton (Bellingham); Ryan Munsell (Lynnwood); Samantha C. Sanabria (Tacoma); Terri Harstad (Bremerton); Julia Mascarella (Seattle); John LeMaster (Lakewood); Austin S. (Bellingham); Josh Siliaga (Seattle); Theresa Herstad (Bremerton); Renee Cable (Federal Way); Kris Sanderson (Mountlake Terrace); Patricia M. (Montesano); Rick Flickenger (Seattle); Rachel Jenkins (Vancouver); Ethan Bendorf (Port Orchard); Caitlin Santos (Steilacoom); April Cipriano (Tacoma); Rhonda Kirkes (Spanaway); Janssen Sartiga (Seattle); Jackie H. (Shoreline); Jaimee S. (Des Moines); Deanna Brewer (Seattle); Dawn Sabatella-Burnam; Jessica Habbe (Seattle); Jessica Clark (Edmonds); Anna Butler (Kent); Eva Skillings (Vancouver); Kristin Klatkiewicz (Kent); Martina B. (Lake Stevens); Michelle Padilla (Marysville); Jamilyn Salas (Tacoma); Alviena Ross (Olympia); Rachel Ross (Spokane); Chelsea Ward (Spokane); Lee Holland (Kent); Angela Sumers (Tacoma); Andrew Lincicome (Monroe); Bryan Sanford (Snohomish)