To:

Seth Berkowitz
Justice for Insomnia Cookies Workers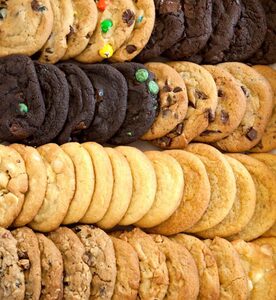 Our Demands
All insomniacs are entitled to timely and accurate pay
All insomniacs deserve the opportunity to give supervisors quarterly evaluations
All insomniacs must start at living wage, with periodical cost of living adjustments
All insomniacs have the right to act collectively without fear of retaliation
All insomniacs are entitled to transparent scheduling
As a new employee at the Federal Hill location of Insomnia Cookies, I feel compelled to bring attention to a series of alarming workplace issues that demand immediate action. In less than a month of my employment, I have witnessed and experienced egregious practices that raise significant concerns about the company's treatment of its employees.
Firstly, my paycheck was inexplicably delayed by an entire week, leaving me without the means to purchase groceries and causing late payments for my utilities. Shockingly, I discovered that other individuals at the store have also encountered similar pay issues. In fact, there have been five wage-theft related lawsuits filed against Insomnia Cookies in the past three years, pointing to a troubling pattern of unfair compensation.
Furthermore, during my training period, I was left alone in the store for a duration of five hours without a passcode to access the point-of-sale (POS) system. This lack of access resulted in the unfortunate consequence of turning away walk-in customers from 1:30 PM to 5:30 PM, causing a direct loss of revenue for the company.
In addition to these operational failures, my manager consistently fails to show up for scheduled meetings and ignores important questions regarding training and scheduling. This lack of accountability from management raises doubts about the effectiveness of leadership within the store.
Most alarmingly, on June 30th, both my coworker and I were terminated in what can only be seen as a clear act of retaliation for voicing our concerns to corporate management. This is not an isolated incident, as there are documented cases of similar retaliatory firings in 2023 and 2013, indicating a recurring pattern of punitive actions against employees who dare to speak up. Such practices create a hostile work environment and undermine our fundamental rights as employees.
It is crucial to recognize that the issues I have encountered likely represent only a fraction of the true extent of similar situations within Insomnia Cookies. Many employees may refrain from reporting due to intimidation, a lack of labor education, or limited access to legal resources. This perpetuates a cycle of systemic abuse and exploitation that must be confronted head-on.
It is also important to highlight that Insomnia Cookies is funded by a German investing firm called JAB Holdings Company. Disturbingly, it has come to my attention that JAB Holdings acquired its initial investment capital through forced labor during the Holocaust. This raises significant ethical questions about the company's ownership structure and historical associations.
Insomnia Cookies must be held accountable for its blatant disregard of employee rights and fair labor practices. My decision to speak out is a testament to the urgent need for immediate action to rectify these systemic problems and ensure a safe and just working environment for all employees.
Why is this important?
It is unfair for employers to flagrantly ignore labor laws and best practices, at the expense of workers who just want to support their families. Even if you don't work at Insomnia Cookies, you're still vulnerable to this kind of abuse in the workplace. If we stand in solidarity we can show all of our bosses how strong we are together. Please consider signing in support of our demands