To:

Good Vibrations
Stand with SECSE!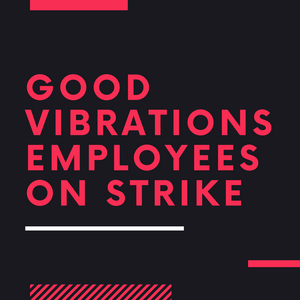 Join us in Solidarity with East Coast Sex Educators! SECSE demands higher COVID-19 safety standards, better communication from our corporate office, a stronger human resources department, scheduled raises, and more local decision making power. For a more detailed list of demands, visit SECSE.net.
Why is this important?
When we completed our employee training, we were each deemed "certified sex nerds" but you might know us better as SESAs. The sex educator/sales associates of Good Vibrations Brookline and Cambridge have been proudly providing non-judgmental sex education to their communities for years. We have striven to create sex positive spaces which battle shame with empowerment and now we need your help to create a workplace that feels safe and empowering for us. The collective employees of these two Good Vibes locations known as Solidarity with East Coast Sex Educators or SECSE (yes, it IS pronounced 'sexy') have come together to demand consent and communication in how the company is run amidst this pandemic and beyond it. We want to amplify our voices on the ground and demand that our needs be addressed directly in the decision-making processes of this company. We love our jobs and many of us have proudly served our communities for 3+ years, learning as we teach others and working to continuously reassess accessibility and representation within our spaces. When we put our company name behind supporting LGBTQIA+, black, brown, disabled, sex worker, and otherwise marginalized voices, we at SECSE believe that the company should extend this support to their employees just as much as we provide it to our communities. Our west coast corporate office doesn't agree that our demands address problems which require immediate action. Good Vibrations cannot claim to serve these communities until they support EVERYONE in these communities including the very people who champion their cause during dangerous times. Stand up for quality sex education, stand up for LGBTQIA+ workers, stand up for consent and communication not just in our personal lives but our professional lives as well. Stand with SECSE!