To:

Uber CEO Dara Khosrowshahi
Uber Drivers Demand Safety on The Job, Higher Wages & an End to Unfair Terminations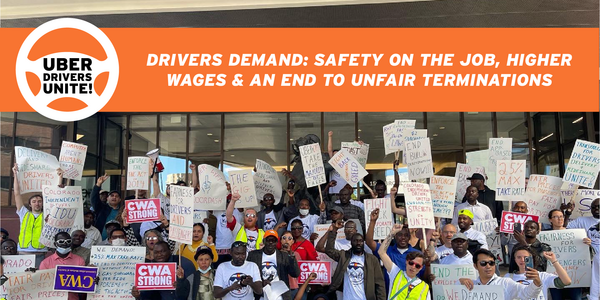 As Uber prepares to celebrate record revenue at its 2023 annual shareholder meeting (1), rideshare drivers across the country are coming together to take direct action and demand that Uber improve safety by ending unfair driver terminations and paying drivers fairly for our work.
While we struggle to make ends meet, we are being threatened, assaulted, robbed, carjacked or worse. Uber forces us to take on the risks and costs involved in rideshare work. We pay for our cars, gas, phones, maintenance and repairs, and most drivers who are injured on the job must cover all of their medical expenses out of pocket. Meanwhile, Uber has not taken sufficient action to keep us safe while we do our jobs.
Low pay and the constant threat of termination push us into unsafe working conditions. Uber can deactivate our accounts - effectively terminating us - based on unfounded customer complaints or for being selective about accepting rides. The possibility of losing our jobs, with little recourse to get them back, can cause us to accept rides we deem unsafe and serve passengers that could put us at risk in order to provide for our families.
At the same time, far too many of us see Uber taking a larger and larger portion of our fares. Many of us are earning wages far below many local and state minimums and even further from a living wage, while Uber is reporting record revenues.
No matter where we live or where we drive, we're all facing the same problems that Uber could fix today – if they wanted to. That's why we're demanding the following:
-Increased wages for all drivers and a cap on Uber's share of our fares.
-Transparency about compensation and how much of our fares Uber is pocketing for themselves.
-A "just cause" termination process that gives us the right to know why we are facing deactivation and the right to a fair and consistent appeals process.
-An update to Uber's policies to prevent passengers from using fake and untraceable names, and to give drivers the right to cancel or decline rides when we feel unsafe - without punishment.
Why is this important?
Uber marked a record $31.8 billion in revenue in 2022 and has the resources to make these changes. Uber is responsible for the dangerous conditions we are facing on the job, and Uber is responsible for the policies that make it hard to protect ourselves from these conditions.
According to "Driving Danger," a new report from the Strategic Organizing Center, nearly three quarters of Black, indigenous and people of color driving rideshare and responding to a national survey reported that they accepted rides they sensed were potentially dangerous to them for fear of being deactivated for bad customer reviews (2). Uber undermines our safety when they penalize us for declining rides we feel could put us at risk.
By keeping our pay low, Uber forces us to work long hours, taking ride after ride, just to make ends meet. By paying us more for our time and our labor, Uber can make it easier to protect ourselves on the job, and make the risks we face everyday feel more worth taking.
Uber's policies are hurting drivers and passengers alike. When drivers have better protections, riders will be safer, too. When drivers know what we earn from each drive, riders will know what cut Uber is taking from each drive.
(1) - https://www.nytimes.com/2023/02/08/business/uber-revenue.html
(2) - https://thesoc.org/what-we-do/driving-danger/
----
Los conductores de Uber demandan seguridad en el trabajo, sueldos más altos y un final a los despidos injustos
Mientras Uber se prepara para celebrar un récord de ganancias en su reunión anual de accionistas del 20231, conductores de viaje compartido en el país se están uniendo para actuar directamente y demandar que Uber mejore la seguridad al terminar con los despidos injustos de conductores y pagando a los conductores una tarifa justa por nuestro trabajo.
Mientras nosotros luchamos para sobrevivir, estamos siendo amenazados, asaltados, robados o peor. Uber nos fuerza a tomar los riesgos y costos involucrados en el trabajo del viaje compartido. Nosotros pagamos por nuestros autos, gasolina, teléfonos, mantenimientos y reparaciones y la mayoría de los conductores que son heridos en el trabajo deben cubrir todos sus gastos médicos de sus propios bolsillos. Mientras tanto, Uber no ha tomado suficientes medidas para mantenernos seguros mientras hacemos nuestros trabajos.
Los bajos sueldos y la constante amenaza de despido nos empujan a trabajar en condiciones de trabajo inseguras. Uber puede desactivar nuestras cuentas, despidiéndonos de inmediato, según las quejas infundadas de los clientes o por ser selectivos al momento de aceptar viajes. La posibilidad de perder nuestros trabajos, con pocos recursos para recuperarlos, nos hacen aceptar viajes que consideramos inseguros y servir a pasajeros que pueden ponernos en riesgo para poder mantener a nuestras familias.
Al mismo tiempo, muchos de nosotros vemos que Uber está tomando una porción cada vez más grande de nuestras tarifas. Muchos de nosotros estamos ganando sueldos mucho menores de los mínimos locales y estatales e incluso menores a un sueldo apto para vivir, mientras que Uber está reportando ganancias récord.
Sin importar dónde vivimos o dónde conducimos, todos estamos enfrentando los mismos problemas que Uber podría resolver hoy, si quisiera hacerlo. Por eso estamos demandando lo siguiente:
-Sueldos aumentados para todos los conductores y un límite en la parte de ganancias de Uber de nuestras tarifas.
-Transparencia sobre la compensación y cuánto de nuestras tarifas Uber se está quedando.
-Un proceso de despido "justo" que nos dé el derecho de saber por qué estamos sufriendo la desactivación y el derecho a un proceso de apelación justo y consistente.
-Una actualización de las políticas de Uber para prevenir que los pasajeros utilicen nombres falsos e imposibles de rastrear y dar a los conductores el derecho a cancelar o rechazar viajes cuando nos sentimos inseguros, sin castigo alguno.
Uber registró un récord de $31.8 billones de dólares en ingresos en el 2022 y tiene los recursos para realizar estos cambios. Uber es responsable por las condiciones peligrosas que estamos enfrentando en el trabajo y Uber es responsable por las políticas que dificultan protegernos a nosotros mismos de estas condiciones.
Según "Driving Danger", un nuevo reporte de Strategic Organizing Center, casi tres cuartos de afroamericanos, indígenas o personas de color conduciendo en viajes compartidos y que respondieron a una encuesta nacional, reportaron que aceptaron viajes que sintieron que eran potencialmente peligrosos para ellos por temor a ser desactivados por malas reseñas de los clientes2. Uber socava nuestra seguridad cuando nos penaliza por rechazar viajes que sentimos que pueden ponernos en riesgo.
Al mantener baja nuestra paga, Uber nos fuerza a trabajar largas horas, tomando viaje tras viaje, solo para poder sobrevivir. Al pagarnos más por nuestro tiempo y nuestro trabajo, Uber facilitaría que pudiéramos protegernos a nosotros mismos en el trabajo y haría que valiera más la pena enfrentar los riesgos que enfrentamos a diario.
Las políticas de Uber están lastimando a los conductores y a los pasajeros. Cuando los conductores tengan mejor protección, los pasajeros también estarán más seguros. Cuando los conductores sepan lo que ganamos de cada viaje, los pasajeros sabrán la parte que se lleva Uber de cada viaje.