To:

Anti-union Board of Directors and Leadership: Howard Schultz, Mary Dillon, and others
Starbucks Board Needs to Get Their Heads Out of the Sand and Treat Union Organizers with Respect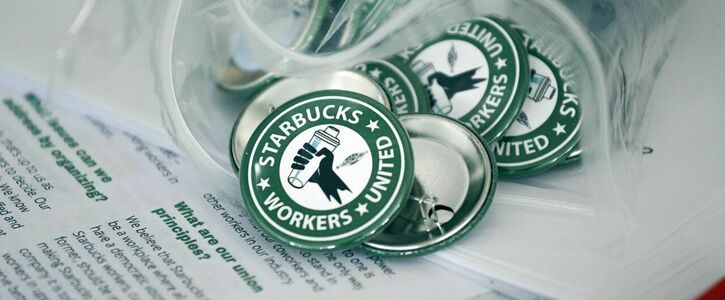 Starbucks has been parroting classic union-busting rhetoric and blaming the unionization effort on "a national labor movement" as if there are no actual issues to resolve. They have made reproachable and questionable decisions, hiding behind what is "legal" as if it is fair or moral in doing so. The company has long been known for trying to uplift the lives of its employees and provide a "third place" to all that is welcoming. Still, with the recent unionization effort now sweeping up 130 stores with applications, the company has been accused of many unfair labor practices (ULP), bullying and targeting those unionizing with harsh scrutiny, and forcing employees to attend "listening sessions" where they are the ones forced to listen. It's ugly and hard to watch. Tell Starbucks to stop this nasty behavior and commit to collaborating kindly with the organizers. Ask Starbucks to stand down with their intense and one-sided meetings and allow organizers to do unencumbered work. Let the people say what they think and feel. Happy baristas keep customers happy and satisfied. Treating organizers with dignity and respect is a win-win for us all.
Why is this important?
Many petitions exist for specific Starbucks issues. Others ask for our support in being pro-union. Some place partners in a precarious situation and so they are afraid to speak up. While it is frowned upon to retaliate against workers, the law is slow, unevenly enforced, and often not harsh enough to deter companies from behaving this way. For example, if an employer is deemed to have wrongfully terminated an employee, they are only required to rehire and "back pay" but they are allowed to dock any wages made at another job during that time. For more information on unfair treatment and the history of the labor movement, I highly recommend Steven Greenhouse's "Beaten Down, Worked Up" book or the ACLU's summary on legislation linked below.
This petition is for everyone who is cringing at how the company they used to be proud of working for is behaving. For those who want the mud-slinging to stop. For those who want to show their dissent but don't know how. For partners that have tried talking to their managers and up the chain of command and are tired of dead ends. For anyone who wants corporate to stop closing their eyes with their fingers in their ears— to make them to acknowledge that what they're doing is ugly and hard to watch, for workers, customers, and onlookers alike.
Baristas are pouring their hearts out into #whyweorganize and it is highlighting disturbing trends and actions by a company that hides behind virtue signaling.
Other links:
- https://inthesetimes.com/article/union-busters-starbucks-labor-buffalo
- https://www.nlrb.gov/news-outreach/nlrb-administrative-law-judge-finds-starbucks-illegally-retaliated-against-two
- https://www.huffpost.com/entry/starbucks-fired-union-leaders-labor-law_n_6204166be4b083bd1cb94d8f/amp
- https://time.com/6150391/starbucks-cassie-fleischer-union-fight/
- https://www.aclu.org/other/collective-bargaining-and-civil-liberties
- https://www.miamiherald.com/news/local/community/miami-dade/hialeah/article259339379.html
- https://apps.nlrb.gov/IssuedDocument/YOOHM6SZ1O6BCDP5EBWB3Y4ZYWYOUCCDYH2PRYTFGMMSVK34CBT63BE6GV4JDJGN50AB1205
How it will be delivered
Signed, sealed, and delivered once we get enough signatures to open some eyes.