To:

The Federal Motor Carrier Safety Administration (FMCSA)
Demand the FMCSA take immediate action on Sexual Misconduct in Truck Driver Training Fleets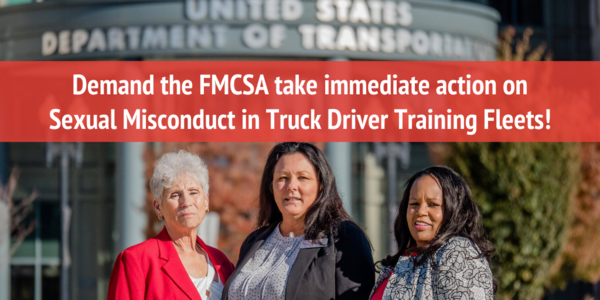 ● Place all trucking companies that use student truck drivers to move team freight on immediate probation. This business model is directly responsible for sexual assaults and harassment incidents that have been reported to our organization in the past decade. IT IS NOT RELATED TO GENDER!
• Cease all future student truck driver recruiting at the following trucking fleets: CRST Van Expedited, CR England, Covenant Transport, New Prime, Inc. and any other training fleet that uses the student truck drivers in team operations which includes trainer/student, student/student co-drivers , unestablished co-driver/co-driver team operation situations REGARDLESS OF GENDER THIS MODEL JEOPARDIZES PERSONAL SAFETY AND HIGHWAY SAFETY!
• Place an immediate cap on future hiring by the above-named fleets until they can prove that they can provide a qualified trainer to EACH trainee. If they cannot provide a safe training experience, they should NOT be hiring AT ALL! Furthermore, they must implement an intelligent system to match co-drivers in any team operations if their business model team revolves around moving team freight.
• Stop delaying! The FMCSA must publicly denounce these fleets where thousands of women have reported incidents at the above-named truck driver training fleets for rape, assault, retaliation and harassment at such a high level these student truck drivers must often abandon their training due personal safety concerns. This is current news and the FMCSA seems to deliberately ignore a decade of documentation available at their fingertips on this subject.
• Implement exit interviews immediately to survey turnover of entry-level truck driver trainees over the past decade to determine how many individuals left the industry due to unsafe training on equipment and personal safety issues. The FMCSA must do this to protect people, which in turn will reduce the nearly 200% turnover in these fleets that has fueled the false narrative of a truck driver shortage. By doing this and taking corrective action it will also curb the waste in taxpayer funded workforce programs these fleets rely on.
• Launch an investigation into the practice of debt bondage taking place in some of these same truck driver training fleets where once a student has the courage and opportunity to abandon training due to safety concerns, they are deemed unhireable because of a tuition debt. Other training companies that participate in this blacklisting are in our opinion practicing collusion that violates anti-trust laws and is a breach of contract since the individuals received substandard to zero training to operate a commercial motor vehicle safely before they had to abandon their training.
• Require comprehensive sexual harassment training and annual retraining to everyone as part of the CMV curriculum that exceeds the current laughable training that exists. From executive leadership, human resource department and throughout the safety department, trainers, co-drivers and new student truck drivers. Currently, very few know the law and their rights, nor the proper way to report incidents which should include immediate consequences to perpetrators and compensation for lost work time to victims.
● Stop giving commercial learners permit CLP exemptions to the truck driver training fleets that have the most lawsuits against them for sexual misconduct and discrimination and looking the other way when these fleets are receiving awards to the human resource departments who have failed at investigating the complaints of thousands of women.
● Implement real solutions and demand accountability and change NOW! Not after a comment collection period that is well over two decades too late! Sexual misconduct in truck driver training impacts highway safety and each day an individual is being harmed in the very workplace setting that the FMCSA is supposed to be overseeing!
We shouldn't have to wait for a study, comment collection or survey that can take years to tell us if there is a problem. The evidence is here and it's clear: the trucking industry has a problem with rape and sexual harassment, and we demand change NOW!
Why is this important?
On July 23, 2019 the FMCSA posted a request for comments to study what they called a "serious pattern of harassment and assault related crimes against female and minority male truckers.".
For over a decade, harassment and sexual assault in entry-level driver training programs has been well-documented and grossly overlooked by the trucking industry and the Federal Motor Carrier Safety Administration (FMCSA), the regulatory agency that is tasked with overseeing safety in the trucking industry. We need a plan of action to address this pattern of abuse and bring about meaningful change NOW!
The FMCSA has ignored widely available public information and extensive reporting on rampant sexual assault and rape long-endemic to the trucking industry. The FMCSA should immediately place carriers where sexual assault and rape continue to occur on probation—and disallow repeat offenders from recruitment to their driver training programs until they clean up their act. Without a meaningful and urgent implementation plan, the FMCSA's request for comments is without teeth—a simple stalling technique and a free pass for the trucking industry.
My name is Desiree Wood and I am the President and Founder of REAL Women in Trucking, Inc. (RWIT), a 501 (c) (6) organization. I am also a truck driver myself that experienced sexual misconduct and several potentially violent situations during my truck driver training from 2007-2008 at Covenant Transport, based in Chattanooga, Tennessee.
As a student truck driver, I was badgered to discuss sex with a co-driver and I also experienced intimidation, culminating in a violent altercation in which bleach was sprayed at my face. During this altercation, my wrist was badly injured while I tried to send an SOS message to the company over the Qualcomm, the only communication device available to me to seek assistance from my company. My co-driver forcefully yanked from my arms to prevent me from calling for help.
I was left behind in New Mexico for several days, a place where I knew no one, while my violent co-driver that had sprayed me with bleach was permitted to continue driving the tractor-trailer. He was highly intoxicated after consuming five Long Island Ice teas and was permitted to operate the commercial motor vehicle on Interstate 40 while I was left behind. When I reported the incident to the Human Resources department at Covenant Transport, they told me they would investigate—but they never did. Even though the incident was likely captured by security cameras and I had filed a police report—the company instead turned their attention to me as a troublemaker.
I formed REAL Women in Trucking, Inc. (RWIT) with other lady truck drivers as a protest movement and in a response to the ENABLERS IN THE TRUCKING INDUSTRY AND THE ABSENCE OF AUTHENTIC REPRESENTATION FOR WOMEN WHO WORK AS TRUCK DRIVERS.
Our mission is to deliver highway safety through leadership, mentorship, education and advocacy. RWIT has formed into a growing community of women truck drivers that offers support to new truck drivers and we demand change in the trucking industry. RWIT is known as the "go to" organization when it comes to sexual assault and harassment in truck driver training; we offer support and resources to women entering the industry when they otherwise would have nowhere to turn, but it's not enough.
Over the past decade, I've personally received weekly distress calls and email from hundreds of women across the country who have had similar or worse experiences during their driver training. In just the past two years, distress calls to our organization have INCREASED at an alarming rate.
SEPERATING GENDERS IS NOT THE ANSWER TO THIS PROBLEM SINCE WOMEN HAVE REPORTED BEING ASSAULTED BY WOMEN BOTH PHYSICALLY AND SEXUALLY! The solution to this issue begins with removing rapists and harassers from truck driver training fleets along with the enablers that allow them to thrive.
The FMCSA is directly responsible for overseeing entry-level truck driver training programs and they have blatantly ignored this issue long enough. No more paper tiger advisory committees and comment collections that deliver nothing and end up appointing known industry enablers to oversee the issues in these training fleets.
Please sign this petition from the REAL Women in Trucking to call on the FMCSA to take immediate action.
How it will be delivered
Through our social media networks that include Facebook, Twitter and through our email contacts that include media and law firms that represent the victims of sexual misconduct in truck driver training programs.