To:

Chili's & Brinker International
Protect Workers and Stop Sexual Harassment

ROC-United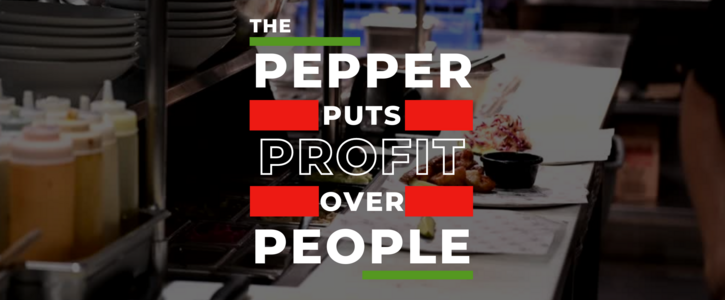 On May 18, 2021, Alex Torres (@AlexServesTea), a former Chili's server, posted a video on her TikTok account sharing her concerns over Chili's working conditions. That video led to hundreds of stories from Chili's employees sharing their personal stories about how bad it was and is to work there. Stories about bullying, harassment, lacking COVID protocols, break violations, and exploitation came flooding.
I, too, worked at Chili's. From 2019 until 2021, I worked as a server at a North Austin, Texas location. During my two years there, I experienced and witnessed multiple instances of blatant, disgusting sexual harassment, lacking COVID protocols, and exploitation. I remember one instance, in particular, where a male worker non-consensually came up behind an underage female to-go staffer and whispered something vile in her ear. When the manager on staff was told about the instance, he brushed it aside and did nothing about it. That to-go staffer eventually left the company due to the lack of action on behalf of management. This is just one instance of sexual harassment I witnesses during my time at Chili's.
Chili's views and treats their workers like expendable resources -- not like the humans that we are. This needs to change. We're human and we deserve respect. For the sake of all future Chili's workers, and the restaurant industry as a whole, I'm coming forward to say enough is enough.
If you believe, as I do, that Chili's negative, exploitative, and exploitative work environment is unacceptable and needs to change, please sign on in support and solidarity. ⬇️
Chili's and Brinker International must act to address the problem of sexual harassment by conducting an independent third party review of its sexual harassment policies and employee experiences. In conjunction with solutions from this review, we believe the following changes will help employees who may be dealing with harassment at Chili's:
1. Provide an accessible and easy to report system (hotline or app or portal) where workers can report issues of harassment with confirmation of receipt.
2. Provide sexual harassment training to all employees conducted by a third-party organization with industry-specific experience.
3. Protect Chili's employees from retaliation for reporting sexual harassment to HR.
4. Provide paid sick time off to all employees.
As current and former workers, diners, and supporters we demand Chili's and Brinker International take the above action to protect and support their workers.
Signed,
John M., Former Chili's Server, TX
Why is this important?
The issue of sexual harassment and inappropriate behavior at Chili's is unacceptable, but it's also reflective of the entire restaurant industry, as a whole. We need to make a change for all future restaurant workers because no one should have to endure exploitation, sexual harassment, or bullying in the workplace.